Our Collections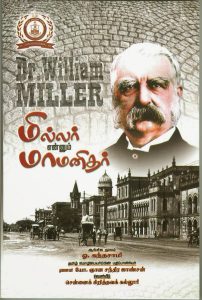 The Archives collection has approximately 3000 books and journals. The collection includes the complete set of Madras Christian College Magazine. The Madras Christian College magazine is a treasure trove which was first published in 1883. Initially it was a monthly magazine with articles of high standards from reputed scholars both within and from outside the College. It consists separate sections for Scientific jottings, literature review, Notes and extracts which reported on world events and college notes. Every minor detail about the faculty and the students were recorded meticulously including the correspondences and queries. 
The college calendar published since 1891 is a source of information about the courses, faculty, syllabi and the graduates of the College. One will be amazed to see the list of prize winners and scholarship holders. The scrupulous detailing of every graduate at the end of the calendar until 1920 even made the administration issue Part I and Part II of the calendars. 
College Handbooks, admission records, MCC Alumni Association Bulletins and Letters and a wide range of rare books covering history, politics, archaeology, numismatics, education, economics, literature, religion, art and architecture, Christian missions, travelogues and memoirs are also part of the collection. Rare books of various languages – Latin, Greek, German, French, Hebrew and various Indian languages are also part of the collections.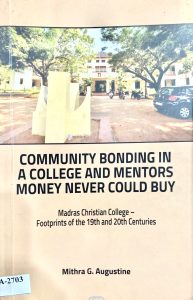 Paper manuscripts of Rev. William Miller, Rev. Frederick Kellet, letters of Rev. Gordon Mathew, Prof. Corley and others are a treasured source. Rev. Kellet's handwritten notes on Indian History in five volumes are a prized possession. Rev. William Miller's 25 handwritten notes on English language and theology is a rare collection. Our special collections also include old gadgets like century old typewriters, the early tube light, a manual calculator. 
The Archives has approximately 1500 photographs of different sizes, which include a group of prints of missionaries, early Tamil Christians and officers in Madras taken in the 19th century. In addition, photos of many distinguished alumni such as (to name a few) Dr. S. Radhakrishnan, Mohammad Usman, S. Sathyamurthy, Gemini Ganesan, Gen. Sundarji and Dr. Raja Ramanna and other public figures; and prints of graduating classes since 1906 are present in the collection. Photos of visits of important national leaders like C. Rajagopalachari, M.G. Ramachandran, Mahatma Gandhi, V.V. Giri, Rajiv Gandhi are also preserved. 
Researchers, Government officials, alumni and faculty, both past and the present use this facility for research on various fields. Internships are also given for students of the college and 
from outside. With the help of MCC archives, scholars have produced their M.Phil. and Ph.D. dissertations. Researchers from all over India and abroad, also access the archives either by paying a visit here or by mail. The catalogue of the archives is available in the college website.
Our Contributions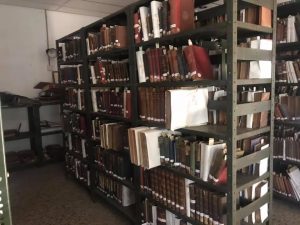 The Archives primarily serves the College community in their research work. MCC  Archives played a key role in the writing of the following books: Dr. K. Joshua's Life and Legacy of Madras Christian College, Dr. Gnanachandran Johnson's Miller Oru Mamanidhar and Dr. Mithra G. Augustine's Community in Madras Christian College. Faculty frequently visit the archives for research. The students from the Departments of History, Tamil, English and others access archives for their academic programmes. Using the resources of the MCC archives, many research scholars have produced their M.Phil. and Ph.D. dissertations. Since archival studies is a component of two courses offered by the Department of History, the students are given a hands-on training in MCC Archives. The students of History Vocational course played a vital role in cataloguing and preserving the books.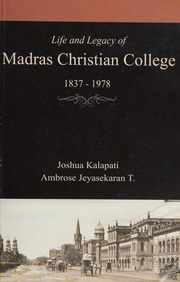 Researchers, Government officials, alumni and faculty from other institutions also avail the services of the MCC Archives. Researchers from across India and abroad, access the archives either by paying a visit here or by corresponding through mail. Such support was extended to Dr. Darren Duerksen, Associate Professor of Intercultural and Religious Studies, Fresno Pacific University and Dr. Phillip Walter, Emeritus Fellow, Merton College, University of Oxford among many others.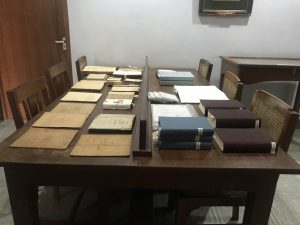 Facilities Available
The archives comprise of a stack room and a well-furnished reading room. A desktop is available to access the digitized documents. A photocopier and a printer is also available to make copies of the document.